Convert Apple Mail to PST
Apple Mail to PST conversion is a necessary task if you want to import emails from Apple Mail to windows Outlook. Since PST is the only compatible file format for Outlook in windows, you need to somehow convert the emails in Mac Mail to PST.
The generic file converters on web can turn this process into an unnecessarily complex and time-consuming process. It can even make your output files fragmented, full of integrity errors, and other nuisances that are hard to tolerate.
Here's the best approach to import emails from Apple Mail to PST or Outlook for windows, as many experts favor and recommend:
Use "Mail Passport Pro," the only email migration utility for this job that delivers clean output, detailed with all the original information, and no loss to data fidelity. It is also intuitive to use even by beginners, thanks to its basic UI that offers both functionality and simplicity.
"Mail Passport Pro" is a Windows application that converts many more formats from Mac based email clients to PST files. It is the only exhaustive solution that features multiple options for input, such as apple Mail, Thunderbird, Postbox, Entourage, and even MBOX and EML Files.
Mail Passport Pro is built to convert Apple Mail to PST, Mac Outlook OLM to PST, Thunderbird to PST, Entourage to PST, MBOX to PST and EML to PST. You can import converted PST file into Mac Outlook 2011 / 2016 and Windows Outlook 2016 / 2013 / 2010 / 2007 / 2003.
Most likely, the emails stored in your Apple Mail database have a rich and highly detailed elements and information beyond just text. Emailing is the most common communication platform that is used today for sharing files, photos, web-pages, and is even used as a form of IM where emails are often conversation in style, to which you reply with a quick few words, etc.
And this is where 'Mail Passport Pro' shines.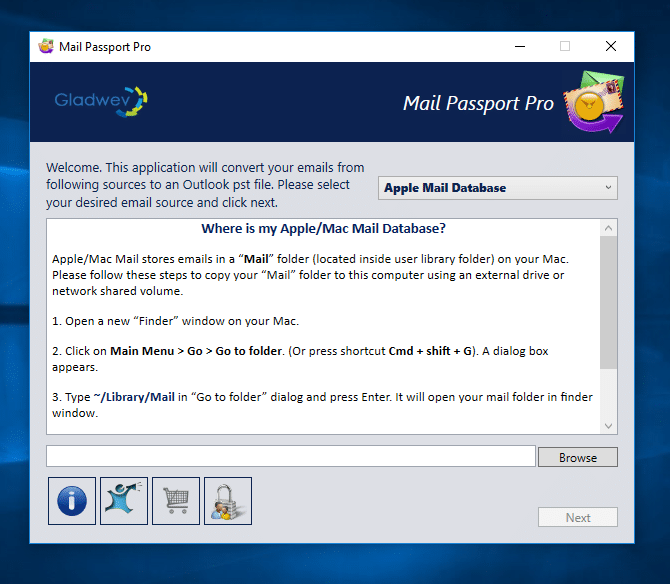 Best tool to Convert Apple Mail to PST
It offers full conversion of all your emails and the associated data/metadata, such as:
Headers, including MIME encoded email addresses (in non-English languages), such as To, from, Cc, Bcc, Subject Line, and Time and Date stamps
Folder hierarchy
Graphical objects/images inside your emails
Nested Emails
Email attachments
Hyperlinks
Unicode, non-English text characters, including Chinese, Japanese, Korean, and Vietnamese (the DBCS encoded languages)
Rich formatted and HTML formatted text inside the email contents
And more.
On top of this, the interface of "Mail Passport Pro" allows total beginners to start converting data without knowing beforehand. If you have no grasp on the background technicalities of the process, you too can import Apple Mail emails into PST files, just like an IT Professional can.
However, there are certain functionalities that make this tool perfect for advanced users for their large migration projects. For instance, they can expect the tool to handle massive databases and files without losing any accuracy, or they can benefit from the detailed and brief conversion log that helps analyzing the process closely.
Finally, the customer support that backs it up provides the link missing with other ordinary file converters. In an unlikely situation that you need help, you can rely on the team of experts that will resolve your issues or answer anything you want to know.
All in all, "Mail Passport Pro" is not a converter, but a software package of features, support, and all the elements necessary to import Apple Mail data to PST files easily and with professional standards of data precision.
Download to Convert Apple Mail to PST
You can get the testing/trial copy of the tool for free to inspect all the features personally and up close to get a better idea of how it functions.
Download free trial copy from download page and convert Apple Mail to PST without any hassle.