Convert Postbox to PST Without Errors!
"Mail Passport Pro" is the finest solution out there to convert data from multiple sources to PST files, including Postbox. Postbox to PST conversion can often be full of errors, missing elements, and other annoyances, and this is the only solution that delivers clean and thorough data conversion.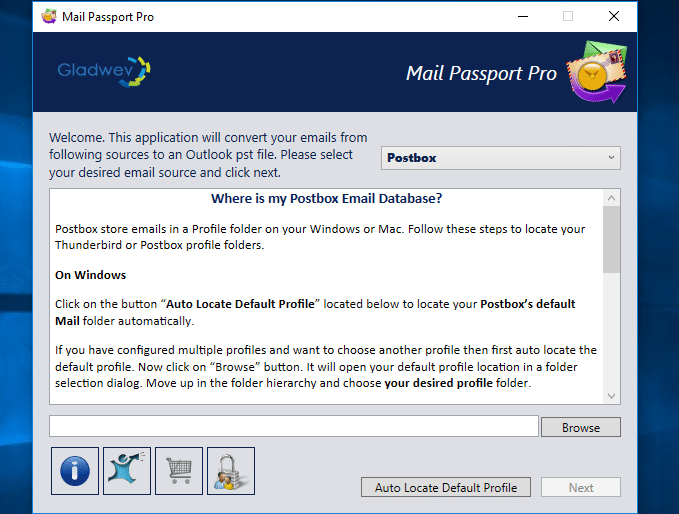 Postbox is an email client built on the solid foundation of Thunderbird. It's clever UI and some uncommon features have made sure that it is still relevant today amongst many users. But there are also many that are looking to switch to Windows or Mac Outlook for much better productivity that Outlook offers. And this switching over the email client can be disastrous if you have a lot of data to be moved across.
Based on the generalized reviews and impressions of third-party solutions, converting Postbox to PST frequently results in fractured and unfinished output. The generic utilities severely lack the algorithms to capture all complex information emails of modern world contain.
Mail Passport Pro to Convert Postbox to PST
And to help alleviate this situation, Gladwev Software devised a perfect and thorough email migration utility "Mail Passport Pro" that has processing algorithms unmatched in their accuracy with anything else that claims to migrate Postbox data to PST files.
Moreover, it's an incredibly easy to use utility that allows a total beginner to start converting data right away without having to knowing anything technical about the job. The simple UI offers an intuitive approach where the steps are clear even to someone who has no idea about Postbox to PST conversion.
You simply launch it, choose 'Postbox' as your designed input email source (since it allows converting data from many other sources too), check the folders you want to convert or not, and click "Convert."
Best Postbox to PST Converter tool
This simplified approach has eased up an otherwise too lengthy and demanding process of email migration across these two formats.
But the best part of "Mail Passport Pro" is its data accuracy. Here is a list of some of the intricate information a Postbox database might contain and are often times partially converted by ordinary tools, but this one by Gladwev software cleanly extracts all of them to PST, giving you clean output without integrity errors:
– Folder hierarchy (the arrangement of your folders)
– Non-English text characters (Unicode elements, including UTF and DBCS)
– Email headers that contain items like To, from, cc, bcc, subject
– Text formatting of email contents
– Email Attachments
– Images and any graphical data
– MIME standard emails
– Nested emails
– and more
Expect the tool to convert every one of these content or elements from Postbox to PST with a sharp, professional standard of data-precision.
Download to Convert Postbox to PST
You can try out the free trial edition below. Click the link and get setup, double-click on the file and install it through the simple installation wizard.
"Mail Passport Pro" is also backed up the amazing support of Gladwev Software. The staff is friendly, quick to respond, and expert on email migration processes. Whatever problem you are facing or if you have any queries, contact them now and get it resolved quickly.