Convert Thunderbird to PST
Thunderbird to PST conversion is a process that requires either a custom-built tool that's too complicated to use and is expensive, or a manual method that again is too complicated and can result in data integrity loss.
However, if you came here with the hopes of making this task seamless and efficient, you won't be disappointed.
Through powerful algorithms, dedicated scripting for complex data components, and a user-friendly UI, this tool from Gladwev Software will take all your stress away of an otherwise nightmarish process of converting emails from Thunderbird to PST.
But first, let us go over what this process is and why you need to convert the data.
Thunderbird is an email client used in all popular operating systems (Linux, Windows, and Mac), but there's no in-built feature to import the emails stored within Thunderbird to Windows Outlook. So, one of the best ways to transfer them is to convert Thunderbird to PST file, since PST is the native file for windows outlook.
And this file conversion is often too difficult to begin with. All the third-party solutions available are tedious, limited, and result in partially converted and fragmented data.
But this one by Gladwev Software is an ideal choice to get the data moved without efforts.
Mail Passport Pro to Convert Thunderbird to PST
It's called "Mail Passport Pro" and is windows based tool, and amongst plenty of its special features, two of them stand out as the most impressive: Accurate Conversion and Friendly UI.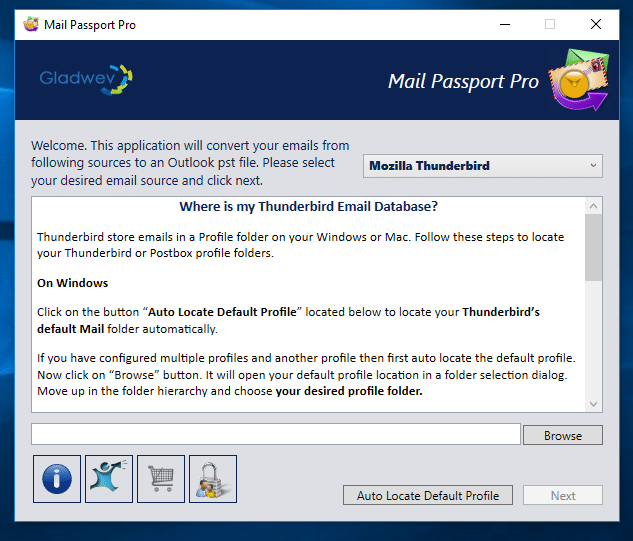 Accuracy
Its specialty lies in its careful inner framework that handles information cleanly and converts everything from Thunderbird to PST without exceptions. This includes everything that the modern-day emails can contain – images, hyperlinks, MIME standard content, Non-English text, metadata and headers, and more.
Friendly UI
Secondly, in spite of its advanced features and algorithms, it lets the users interact with it through a very friendly interface. The UI is based on a minimalistic approach that doesn't clutter the space and without compromising the functionality, offers an intuitive approach to data conversion.
Here are some more of its unique and helpful features:
It can handle large thunderbird database easily without stumbling
The tool full supports text in any language including Unicode (non-English text like used in Chinese and Japanese)
It will keep your folder hierarchy preserved
The conversion is very quick, allowing you to convert one GB in less than ten minutes.
The full detailed and a brief conversion log helps advanced users make sense of the conversion in depth
On an additional note which is a little beyond the scope of this article: "Mail Passport Pro" can also convert many other formats to PST, such as Apple Mail, Postbox, Entourage, Mac Outlook, MBOX and EML files.,
How to convert Thunderbird to PST?
Launch 'Mail Passport Pro'
Select output format 'Mozilla Thunderbird'
Click on "Auto Locate Default Profile" to auto load your entire Thunderbird Mail Database. Or Click on "Browse" to locate the Thunderbird 'Profile Folder" manually.
Then Click on "Next"
Moreover, "Mail Passport Pro" comes with a full support staff ready to help you 24×7 regarding any concern, query, or problem you may have. They are experts on email migration and very responsive that will quickly resolve whatever that you want help with.
Also, you will get free updates for lifetime whenever they are rolled out. It helps to maintain the tool's performance over time and to resolve any bugs there might be.
Download to Convert Thunderbird to PST
Get the free trial version today.
Download Now at http://www.mailpassportpro.com/download-now/.
If you are satisfied after inspecting the tool up close, you can use any of its flexible pricing packages to update to the full version.
To convert Thunderbird to PST for Mac Outlook or Windows Outlook, get 'Mail Passport Pro' today.