MBOX and PST are two data files that are varying in their inner structure and how they store data inside them. That's why it can be very tough to convert their formats one to another, especially MBOX to PST.
This article discusses one of the best ways to convert MBOX to PST without data integrity errors in spite of the dissimilarities between them.
It's through an excellent software utility (Windows) called "Mail Passport Pro" by Gladwev Software. The tool was developed from inside out to avoid the pitfalls a usual converter cannot for such tasks. It has a multitude of algorithms and scripts that work their way through the email databases thoroughly and make sure nothing is missed or ignored.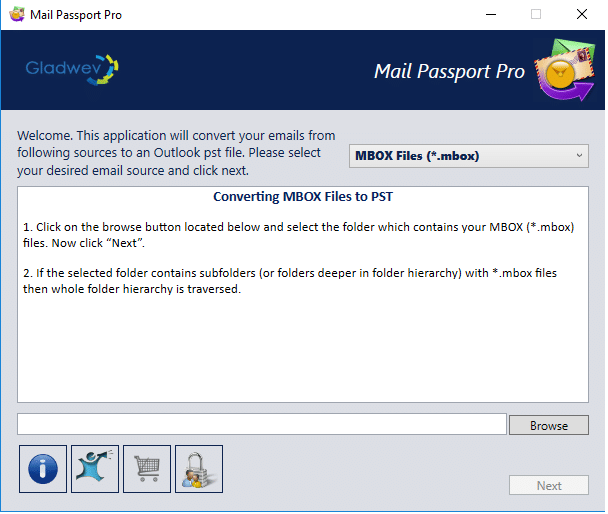 If there's only one thing users want out of MBOX to PST converters, it is obviously to convert everything without either missing or modifying details. And yet, that's not what generic file converters are capable of.
That's the primary objective that needs to be fulfilled, but that's not all. Like any other tasks, it also has certain very generic needs, such as being able to convert files quickly without wasting much time, to be able to do it easily without going through the web of technical jargon, without putting much efforts going through all the manual steps, and so on.
And the good news is that "Mail Passport Pro" does it all.
Here's a quick look at some of those special features:
Batch conversion: It's hard enough to convert a single MBOX to PST file without damaging the fidelity of information. But "Mail Passport Pro" can also convert multiple files in bulk and face no such problem or setbacks. It still runs smoothly and gives accurate output.
Converts all email items: built for clean data migration, the tool ensures that all little details from email files are converted, like: to, from, cc, bcc, time and date, attachments, images, text formatting, HTML links, and so on.
Converts Non-English text: Certain languages use Unicode standard to encode the characters and they are often trickier to process than ASCII standard (English). Unicode is universally accepted standard used to format many languages, including Japanese and Chinese that use double-bytes to encode their characters. Only "Mail Passport Pro" contains support to convert all such text regardless of the language.
Folder Hierarchy Safety: It's also not straightforward to convert data from MBOX to PST and keep the hierarchy of folders similar to the original. The exclusive scripting used with "Mail Passport Pro" can detect the structure of your folders with precision and keep it that way during conversion. So the final results matches exactly how the data was structured in input MBOX files.
Like with all other Gladwev Software solutions, this tool is available in a free version for trial purposes. You can download the setup for free below and install it.
Download Now: http://www.mailpassportpro.com/download-now
If you have any questions, or if you face a setback during MBOX to PST conversion, there's always the tech support team ready to help you at any time of day or night.