Every one struggled when trying to convert email data files or to move data across email clients. But
it gets even more difficult when the clients or data files involved are associated natively with
different platforms or operating systems. This post will shed light on one of the most challenging
form of email file conversion – MBOX to PST. It's tricky mainly because of the varying nature of both
files and how the data is structured within both files. Any converter has to go through extensive
extraction process to get the items and information properly converted.
Even the top experts sometimes find themselves lost or stuck during Importing MBOX to Outlook in PST file format. It's a process brimming with dozens of complications and seemingly there's no way out.
This post will make you come out of this loop and get you in charge of an otherwise dreary task.
Through professional set of tools, you can make it a simple, quick, and efficient task without knowing
anything about the technicalities of the process. But that's the hard part – finding a professional tool.
Because allegedly, plenty of solutions that you can find online have got nothing going for them. They
are built with inaccurate algorithms, cursory features, and just casually thrown in elements for UI
that makes the entire process demanding and tiring.
Try 'Mail Passport Pro,' a tool from Gladwev Software, set to amend the situation and offer an ideal
approach to both advanced users and beginners.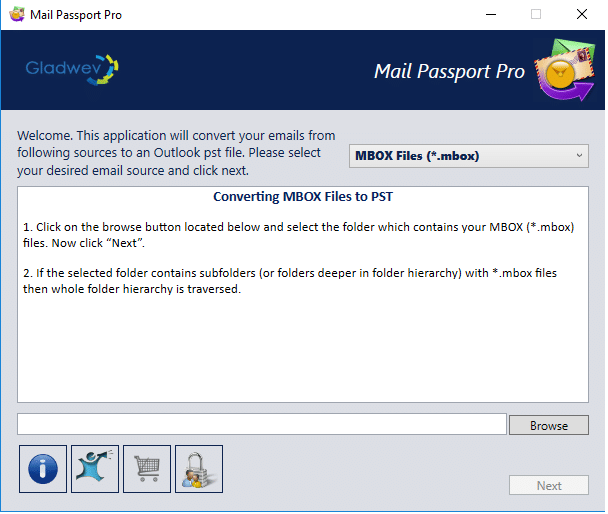 "Mail Passport Pro" is essentially a complete solution to convert data from all popular email clients
and files for Mac OS X into PST files, including Import MBOX to Outlook, which is what this post is about. But
keep in mind that the tool can convert Apple Mail, Outlook for Mac (OLM), Thunderbird, Postbox,
Entourage, and even EML files to PST files.
Now, back to MBOX to PST conversion.
The reason why extracting emails and other items like contacts and calendar from MBOX files is
challenging is because of how diversely information is structured in both MBOX and PST files. It
defies the basic extraction process. That's where "Mail Passport Pro" enters into the picture. It's
advanced and leading algorithms will offer you clean and extensive data conversion, resulting in PST
files that contain zero data integrity errors.
Most often, users would find their email attachments, images, metadata, headers, or other items
missing or not converted correctly. "Mail Passport Pro" keeps everything intact without changing
their original details.
Moreover, it also works the best for large scale projects because of its ability to convert files in bulk
without impacting other aspects like accuracy and speed, something that generic MBOX to PST
converters often fail to. You can simply select the folder containing MBOX files and have them
converted to PST in one go.
The UI is built considering beginners and non-experienced users in mind. So, even though, "Mail
Passport Pro" contains advanced features and powerful algorithms, using the tool is nothing but
simple and intuitive. Without even going through tutorials or technical jargon, anyone can begin Importing
MBOX to PST and get proficient results.
Check out the trial edition now and find out more about the tool in depth.
For More: http://www.mailpassportpro.com