MBOX to PST converters main objective is to safely get everything from MBOX file format into PST
file format. This can prove to be incredibly complex due to the inherent nature of both files. The data
is structured in them quite differently and it can get tricky to extract all of it with precision. Only
advanced MBOX to PST conversion tools have the algorithms to make it possible to convert data
while preserving data integrity.
Plenty of tools for this task lack the proper algorithms. If the data accuracy is taken care of, you'd
find their interfaces to be sloppy, or the lack of features will remove any flexibility that an individual
might need, or there will be no techy support, or there will be no support for converting non-English
text, and so on. It's difficult to develop a complete MBOX to PST converter that is professional and
efficient on all fronts.
Which brings us to "Mail Passport Pro" from Gladwev Software.
"Mail Passport Pro" changes the years of pain and frustration when Importing MBOX to PST
conversion. Built by advanced and dedicated algorithms to convert very complex items within the
files, it also takes care of other generic areas for a software application like interface, tech support,
speed, and more.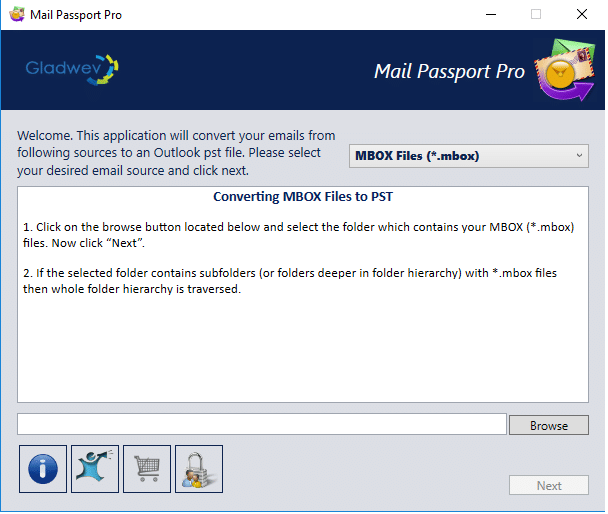 "Mail Passport Pro" best and most unique selling point is the ability to convert everything that an
MBOX file can contain. Generic solutions fail to take care of items like metadata, headers, Unicode
text, images, attachments, MIME defined content, and similar tricky information bits. And this is
where "Mail Passport Pro" shines. You can expect it to take everything from MBOX and safely rebuild
it for the PST format without errors.
This is often called data integrity and most tools struggle to keep integrity of your emails secured.
But it is not going to be a concern anymore.
Secondly, the interface built by Gladwev Software is intuitive, which is really impressive for a task like
this. You can simply download it from below, install, and begin using without even knowing anything
beforehand. The natural and simplicity UI helps all kinds of users, including beginners, to not get all
tangled up in annoying technical details of email migration, and simply follow the graphical wizard
that gives you systematic steps to perform this conversion quickly.
And finally, there's a 24×7 tech support that will take care of any unique and personalized problems
of individual users during conversion. The tool itself is easy to se and free of bugs and glitches, but
sometimes the databases of MBOX files can be a little troubling through not fault of any converter.
The tech support of Gladwev Software will make it breeze to come out of such situations instantly.
You can download the trial setup below. Just install and being using to convert MBOX to PST files.
You will not be disappointed!
For more: http://www.mailpassportpro.com